Sep. 5, 2022 - Check out our newest flashlight, the WTC Mini 365nm UV flashlight! This compact flashlight features a rechargeable battery and 3 watts of UV output.
Jul. 19, 2022 - We regret to inform you that due to increases in material costs from our suppliers, we will be raising prices on lamp fixtures by 10% effective August 15, 2022. Place your orders now before the price change! (Note: 5-watt lamps and flashlights are not affected by this change).
Feb. 8, 2022 - We have new material in our booth at the Mineral City Show in Tucson. Check out this amazing jewelry for sale by Johnny's Gems. Check them out at @blacklightbling on Instagram.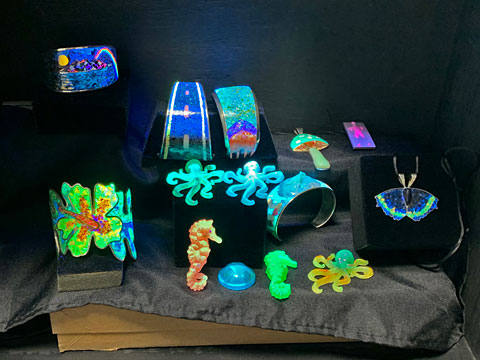 Feb. 7, 2022 - Here are some photos of some of the specimens that we have for sale in Tucson. PLEASE NOTE: the color rendition is brighter and slightly different in person. All of these specimens are for sale, contact us to inquire about the price.
Feb. 4, 2022 - WayTooCool was featured in a recent Facebook Live video done by The Mineral City Show! Check out Mineral City on Facebook to watch a recap of the video including a tour of our booth and what we have to offer. Huge thanks to Mineral City for this!!
Jan. 4, 2022 - We invite all of our fluorescent mineral friends to come see us at the Mineral City show in Tucson, Arizona from Jan. 28 - Feb 12, 2022. We are at booth C11 (Building C) located at: 531 W Plata Street, Tucson, Arizona 85705. Way Too Cool will be selling fluorescent minerals, lamps, UV flashlights and accessories. We hope to see you there!
March 2021 - Way Too Cool will be at the 22nd Street Show in Tucson, AZ at booth A21 - come and see us! The show takes place from April 8-25, 2021. More information: https://22ndstreet.show/. This will be our last year at the 22nd Street Show. After this event, we will be relocating to Mineral City in Tucson. We also have a new lamp available: 36 LED UV Lamp
December 2020 - A limited quantity of our 9-watt AC lamps are back in stock - inquire for details.
November 2020 - Our line of UV sterilization lamps have been discontinued. We will continue production of our regular fixtures with filter glass installed.
June 2020 - We have begun offering a modified version of our standard UV lights for sterilization purposes. Instead of filtered glass, these lamps are equipped with clear glass.
May 2020 - We are proud to introduce a new handheld UV light called "The Triple" which produces shortwave UV (and can do mid-wave and long wave with the optional filter inserts). The Triple Handheld UV Lamp.
December 2019 - We invite everyone to come and visit Way Too Cool at the 22nd Street Mineral, Fossil, Gem, and Jewelry show in beautiful Tucson, Arizona. The show starts January 30, 2020 and runs through February 16, 2020. We will be there for the entire show with our UV lamps, UV flashlights, fluorescent minerals, and a whole lot more. View show information: www.22ndstreetshow.com.
October 2019 - New product alert! This Convoy C8-based light is custom-manufactured for Way Too Cool, LLC by Convoy. Read more about the Convoy C8+ UV LED Flashlight. Available from authorized Way Too Cool dealers.
July 2019 - Universal Input lamps are here! Shop our 18-watt lamps as well as new 35-watt lamps.
May 2019 - Coming soon! Our 9-watt and 18-watt lamps will soon be available in new "Universal Power" models that operate on both AC and DC power - without the need for a separate adapter! Watch this space for updates as they become available.
March 2019 - We regret that filter glass is no longer available for purchase as a stand alone item. We will continue to offer warranty service (including glass) for lamps that we have manufactured. However, individual (loose) pieces of UV filter glass are no longer offered.
October 2018 - The Torcia 365 UV LED flashlight has been superseded by the Convoy S2+ 365nm UV flashlight. The new light has a more efficient design that offers approximately two times the amount of UV compared to the original Convoy S2+ UV flashlight. You've got to see it to believe it!
June 8, 2018 - Our brand new website is now online! It is mobile responsive and should work much better on phones and tablets. Please take a few moments to explore the site and if you see something that doesn't look right, please contact us and let us know.
April 2018 - Our 9 LED and 51 LED flashlights are back in stock!
February 2018 - Thanks to everyone for another great year at the Tucson Gem & Mineral Show! We'll be back again in 2019, hope to see you there!
Whoops! A batch of our stickers went out with the incorrect website URL. The correct spelling is fluorescents.com, but the stickers mistakenly say fl-o-u-rescents.com. Don't worry, we have registered the misspelled URL and it will point you to the correct site. Thanks for your understanding.